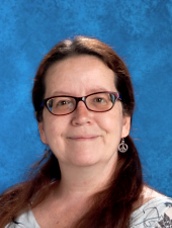 Hi! I'm the Secondary One teacher at KA. I teach ELA, Math, History, Science, Geography and ERC. Teaching young adults is a new adventure every day and we have fun while learning from each other. I think having a sense of humour and joy for what I'm doing are essential parts of my job. Alongside academics, I work with my students to develop their leadership skills, confidence to tackle new experiences and their curiosity about the world.
I grew up in the Townships; I actually went to Sec. 1 at KA and graduated from Massey-Vanier. My first time around I got my BA in journalism but went back to my original love and got my teaching degree. I taught in Montreal for 13 years before moving back to the Townships and next year will be my 20th year teaching (which is impossible because I don't feel a day over 29).
I love the colour purple, chocolate, reading, lazing in a hammock by the lake and doing anything with my beautiful daughter.
Knowlton Academy is a special place to work. Everyone is very supportive and it truly feels like a second family.
Contact: perrys@edu.etsb.qc.ca