Summer hours: the school offices will be closed from July 10–August 13. If you require information or have questions about eligibility or registering your child, please

click here

.
Knowlton Academy's Playground Opening!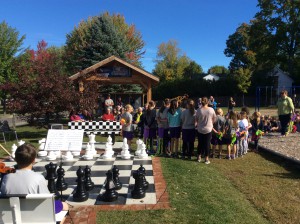 Knowlton Academy Inaugurates its
Playground Make Over!
Lac-Brome, September 30, 2016 – The students at Knowlton Academy have another reason to be active and love the outdoors this school year with the upgrades and improvements to their school playground. The school community, the Eastern Townships School Board (ETSB) and the ministère de l'Éducation, de l'Enseignement supérieur (MEES), have invested over $100,000 into the project. The new installations and upgrades include a giant chess set, a dek hockey rink and a gazebo that will be used as an outdoor classroom equipped with benches and a blackboard!
"We wanted to make upgrades that would provide the best possible opportunities for students to learn and grow in a safe inviting environment. With the addition of our outdoor classroom, one of only a few, students can be outside in the moment while learning about their environment. We could not have accomplished it without the hard work of our volunteers, the generosity of our donors and the added support of the MEES and the school board", expressed Renalee Gore, Principal of Knowlton Academy.
For the playground project the $100,000 investment was broken down with $25,000 from the MEES under the measure Embellissement des cours d'école 2015, $25,000 from the ETSB under the same measure and $50,000 from the school and its community. La Ville de Lac-Brome, Pacte Rural and Knowlton Packaging made major contributions totaling over half of the monies raised by the school and its community. "This is in addition to the numerous donations from local businesses, community groups and the countless hours of volunteer work. I also want to thank Susan Muir for leading this project from beginning to end. Without her vision, support and total dedication this project would not have come to fruition ", expressed Ms. Gore
Knowlton Academy provides educational services to over 230 students from kindergarten to grade 7. It offers students a quality education and the advantage of a bilingual learning environment as well as numerous enriching programs such as music, dance, skiing, robotics, pottery, sports, and a family literacy book bag program to name but a few.
For more information please contact the school at 450-243-6187.
---
Looking forward to another exciting school year!!!
The Knowlton Academy office is  open from 8:30 am – 3:30 pm, Monday to Friday. For new registrations and all inquiries, please give us a call or drop by the school. We will be happy to help you.
For information on how to register your child and eligibility requirements click here!
---
August 31, 2016
Dear K.A. Families,
I would like to take this opportunity to welcome you all to our 2016-17 school year.  To both our new and returning families, thank you for entrusting your children to us.  We will envelope them with love, helping them to grow as both learners with an eager sense of curiosity and as caring children of the world.  This year will be an exciting one at Knowlton Academy.  The classes and hallways will be brimming over with new learning adventures and no doubt lots of laughter and wonder!
In keeping with a long tradition of excellence, Knowlton Academy continues to have an excellent teaching and support team.  Supporting our strong pedagogy, are all our special programs.  (sports, music( piano,violin,guitar and drumming), dance, robotics, pottery,etc.)  I can never stress this enough.  One of the best predictors of a child's school success is a parent's involvement in his/her school experience.  Please stay informed, involved and supportive in and of your child's education and participation in school activities.  Knowlton Academy is a 'magical' very special school.  We are surrounded by a very caring and generous community.  'Working Together', we will have an amazing year!
Nothing is impossible, the word itself says "I'm possible" – Audrey Hepburn
I am very honored and proud to be your principal.
Sincerely,
Renalee Gore
P.S.  Please feel free to stop by, email () or call if you need to talk to me.
.